RATE Camping 2023

Low season

Middle season

High season

Per day
from 15/12/18 to 24/05
from 1/09 to 30/09
from 24/05 to 24/06
from 15/08 to 1/09
from 24/06 to 15/08
Price for 1 person +
1 tent + 1 car OR
1 caravan + 1 car OR
1 campingcar
17,50 €
21,00 €
26,00 €
Price for 1 person +
1 moto + 1 tent
14,50 €
17,80 €
19,80 €
Price for 1 cyclist OR
1 walker + 1 tent
12,00 €
14,00 €
17,00 €

1 extra person

7,30 €
8,80 €
10,10 €

1 extra child + 6 years

6,80 €
8,25 €
9,50 €

1 extra child - 6 years

Free
Free
Free

Tourist tax per person

0,66 €
0,66 €
0,66 €

1 extra tent

4,40 €
5,50 €
6,80 €

1 extra car

5,00 €
5,00 €
6,50 €

Electricité

4,80 €
4,80 €
4,80 €

Electric heatinh (in winter)

2,00 €
2,00 €
2,00 €

Caravan garage

4,00 €
5,00 €
5,00 €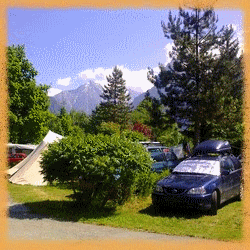 + photos

The places are flat, shaded and bounded by natural hedges ( from 90 to 100 m² )

In summer : animations, swimming pool, laundromat, bakery, snack, bar, pizzas…

In winter : 20% discount on ski day at Alpe d'Huez and the rental of ski, more than 470 km of tracks in a radius of 20 km.

Sanitation block : are heated, equipped with a drying room, a laundry, shower cabins, cabin sink, tub for babys... All the conforts needed for a good holiday !

The dogs and cats are authorized attached and subject to their walk exclusively outside.
To download a tariff with format pdf






Reservation on line




Free



Free zone